By setting up a video meeting inside a virtual environment, the participants can navigate, discuss and present on the same platform.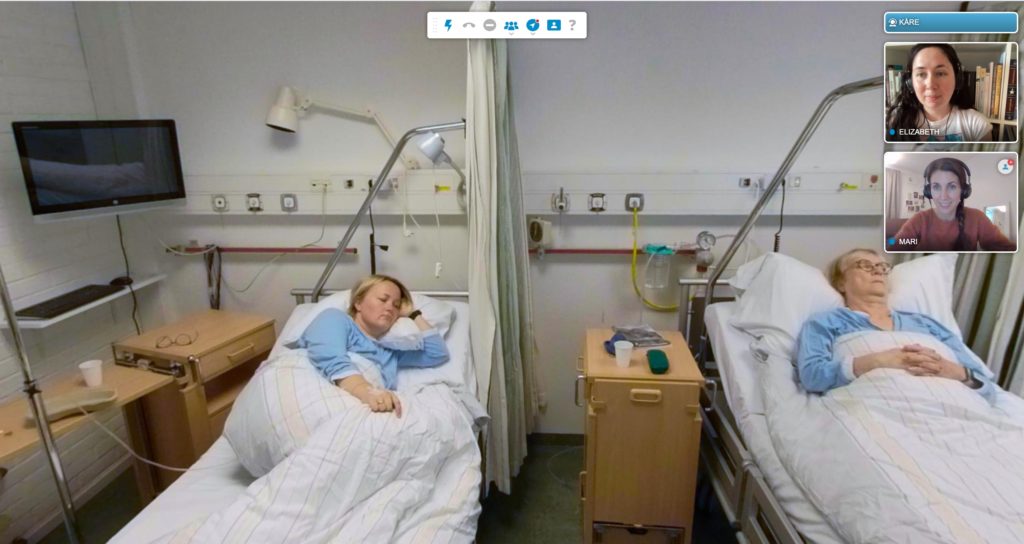 Read more about the ward round case here!
About the 3D Vista feature
According to 3D Vista, it is possible to take guests "by the hand" on a shared virtual tour with personal guidance. Synchronizing where you look, you can take turns on controlling the virtual tour.  
Users are able to explore on their own, and the host can pick them back up anytime to follow the host's route.
Live Guided Tours are accessible on both desktop and mobile devices, so individuals attending the live video meeting can dial in from their mobile phones as well. 
More than screen sharing
So why not just use Zoom with a normal virtual tour then? According to 3DVista, both quality and speed are better. Sharing a multimedia-intense virtual tour via a screenshare often results in jerky images, latency and overall an undesirable experience.
With 3DVista Live Guided Tours every participant is inside their own actual virtual tour and sees their own media with the participant video bubbles overlaid on top. This preserves the quality of the virtual tour images and the smoothness when moving through the rooms – even if they're controlled by somebody else, according to 3DVista's webpage.
Another advantage argued by 3DVista, is that you are preserving interactivity, the essence of a virtual tour. Screen sharing a virtual tour would not allow participants to take control of the tour and explore themselves. With 3DVista Live Guided Tours (and the permission of the host), any guest can deviate from the route and navigate on their own, open any hotspots they'd be interested in and feel in full control of the virtual visit.
By Kåre Spanne, Media Engineer at the University of Stavanger
Sources
https://www.3dvista.com/en/products/lgt/