An 83-year-old mother and a best friend, who is also a retired community nurse, agreed to take part.
Before filming, it was important to ensure the home environment reflected the details in the script, all the necessary equipment was in place to meet the clinical scenario requirements and that the 'actors' were comfortable with the scenario expectations. In the 83-year-old's case, the necessity to appear dishevelled was possibly the biggest challenge of all!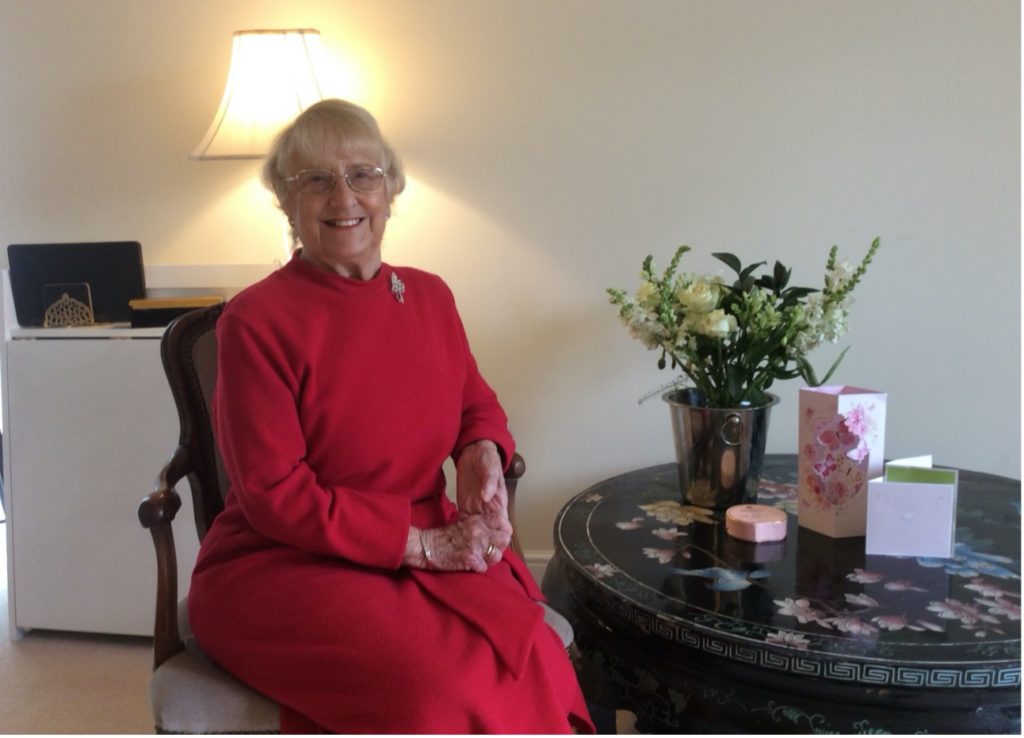 Learning points from filming 'on location'
1. Have a very detailed specification for filming each of the scenes including the following elements:
Positioning of actors and equipment in the scene
Lighting in the room
Where the person filming will be positioned
Ensure the actors are aware of the sequencing of each scene and give them a script to prompt what they need to do/say is really helpful
Equipment list including technical e.g., camera, stand, microphones, lighting, batteries
2. Visit the filming location beforehand to check out the space, potential issues (as far as possible – some can't be predicted!). Also, if you are filming outdoors, it is important to check weather reports well in advance of any date decided for the shoot. As filming 360 video outside in the rain is not advisable.
3. Prepare your equipment in advance and make sure you have spare memory cards, batteries etc, and check everything is working beforehand. It is useful to create a checklist to make sure you don't forget anything before travelling to your location. Get to the location in plenty of time to set up.
4. For our shoot we used the following equipment:
Insta 360 One R camera
iPhone 11with Insta 360 app installed (app available for IOS and Android phones)
Bushman panoramic monopod V2 – weighted tripod stand
Insta 360 selfie-stick & tripod
2 lavalier lapel mics & 2 Sennheiser mobile body packs and receivers
Zoom H6 recorder
2 x 128gb SanDisk Extreme A2 micro-SD cards (for 360 camera)
2 x 32gb SanDisk Extreme PRO SDXC (For Zoom – audio)
2 packets of replacement AA & AAA batteries
1 x Heaphones
The kit above is very portable and mostly fits (complete with travel cases) into a medium sized backpack.
Sound: We could have relied on the built-in microphone within the 360 camera for our audio and further reduced the required kit, but we already owned zoom and lapel mics and wanted to try and get the best sound possible. (Remember when using external audio equipment to provide an identifiable noise such as a handclap at the start of each clip once all devices are set to record. This helps when aligning/syncing the external audio with the video clip during editing).
Lighting: We decided not to take any lighting and rely on house lighting and portable table and floor lamps for indoor scenes. This worked well and looked natural and as part of the furniture when viewed in shot.
Remote control: We used the iPhone to take still photos of equipment and control the camera remotely but could have downloaded the Insta 360 app onto almost any type of smartphone.
Tripod: We did invest in the weighted tripod, this is advisable as other tripods we experimented with offered little resistance to even the slightest amount of breeze and could easily fall over, which could seriously damage the camera and at very least ruin the shot. The weighted tripod has also been designed to work well with 360 video cameras and leaves very little stand footprint to remove during editing.
Monopod: We also used the monopod for a motion shot with the nurse holding the camera at arm's length whilst entering the house. Shots such as this can cause motion sickness when viewed in headset, but this one seems to be working.
Frame rate: It was decided that we would use the higher quality HDR mode setting for stills and all scenes were shot in 5.7k. at 30fps.
5. Remember with 360 you are shooting blind – be prepared for re-takes in an uncontrolled environment. We had family members walking downstairs into the shot, a cat walking through the front door! Tell your participants that this may happen when they agree to take part in the filming. If they have not learned a script, they have to keep remembering what they said or should be saying in the scene.
6. Remember when you are filming 360 the field of view is much wider than in usual filming – things or people you think are out of shot are sometimes in. We took advantage of natural hiding places such as the hedge in the front garden and the alleyway next to the garage to remain safely out of shot for the outside scenes. We monitored each scene via the Insta 360 phone app which was installed on the Iphone.
7. Take lots of batteries. A battery-operated kit is great to get the flexibility in how the scenes are filmed and for ease of use by the operator, but it is also useful to have an assistant to check battery levels in the different pieces of kit.
8. We had one professional technologist filming the scenes – with two assistants helping to set up the scenes, look after the actors/actresses and check batteries. It is important to check that the actors or any important information that you wish to include in your video is not captured in the camera's stich-line. Having more than one person checking that each scene is correctly set-up is extremely useful.
9. Our participants in the film were an older family member (as the patient) and a district nurse (playing the district nurse) – they were not trained actors but were confident at role play. They read the specification of the scenes and activities beforehand but did not memorise a script but ad-libbed the scenes. This worked well in this case, but it is important to select performers who are confident to do this.
Have a look at our other tips on how to produce interactive 360° video for education.