University of Nottingham created a 360° training environment that helps students understand the role of a community nurse and some of the tasks connected to a home visit.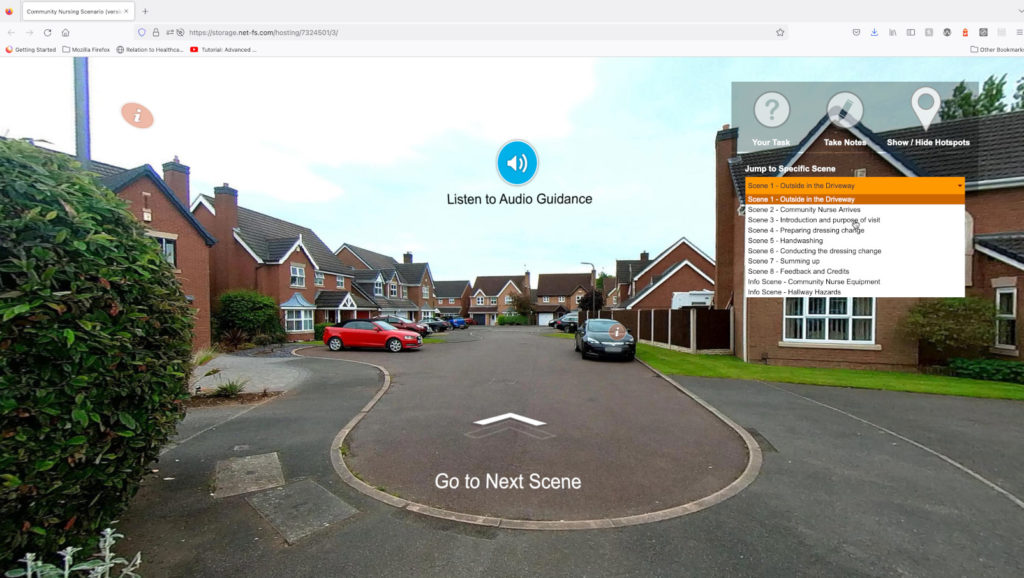 Case: 360Visi Community Nursing Scenario
Produced by: University of Nottingham School of Health Sciences HELM
Objectives:
To understand the role of a community nurse in holistic patient assessment
To identify risk assessment processes in the scenario
Consider the issues of conducting a non-touch dressing technique in a community setting
To indicate the role of the multi- professional team in the context of the scenario
Method:
The nurse lead in the project team commenced the creation of the scenario script focusing on:
Scene description
Voice over content
Equipment required
Potential hot spots for student to target
The learning technologist used the peer reviewed script to develop the scenario, incorporating audio description and hotspots to aid user understanding. An existing Reusable Learning Object (RLO) form template using local storage was adapted to ask questions and record user comments as they progress through each scenario.
Equipment and tools:
Filming:
Insta 360 One camera and tripod
Zoom H6 audio recorder
3 x Wireless Lavalier microphones
Editing and Production:
3D Vista – Virtual Tour Pro
Audacity (Audio)
Evaluation:
Students watched two versions of the video; one version with audio and one version with no accompanying audio. Students were asked to complete a short online questionnaire.
The resource was additionally piloted with a multi professional hospital based Occupational Health Team.
Initial evaluation indicates positive student experience with particular reference to usability and accessibility and the real life immersive experience:
"360 camera in a real setting enhanced the learning"
"Easy access at any time of the working week"
"It was visually stimulating and interesting"
"I can apply the knowledge. Because I could process the information as in a real natural environment."
Although we tried to make the scenario as accessible as possible for all learners, we still have further research work to conduct and implement in this area.
User instructions:
When first arriving at the scenario, the user is provided with a welcome textbox which describes the reasons for the nurses' visit and explains user learning objectives.
There are two ways to navigate. The user can work through each scene sequentially or use the drop-down list to access individual sections. There are hotspots describing equipment used by the nurse and highlighting potential home hazards.
A 'Take notes' button is always available so the learner can answer questions and add comments, all answers provided can be printed out or saved in PDF format at the end of the scenario.
Link to the solutions:
Video 1 – Without audio descriptive guidance:
Video 2 – Community Nurse with audio descriptive guidance.
Read more