Project partner Screen Story created 360° versions of art exhibitions for Stavanger Art Museum to preserve them for the future and make them accessible to a larger audience.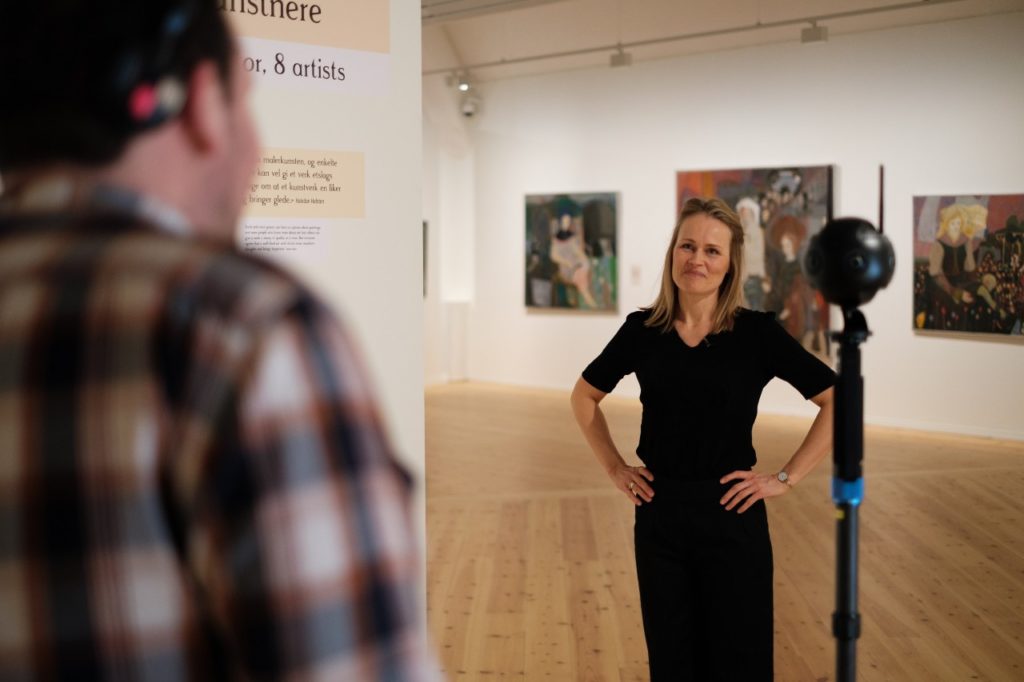 Case: Stavanger Art Museum
Produced by: Screen Story
Objectives:
The objective of this case was to realize the vision of Stavanger Art Museum to perpetuate the three most famous exhibitions that are permanently installed at Stavanger Art Museum's premises.
The intention was that the art should be as realistic as possible, and that you feel that you are at an exhibition when you are in the 360 virtual tours.
Accessibility also became an important factor, both for an international audience and for people who do not have the opportunity to attend the museum physically.
Method: Stavanger Art Museum itself was responsible for the script of the virtual tour. Screen Story helped adapt the script to fit the format.
Tools and equipment:
Insta360 Pro 2
Sennheiser Lavaliers
Zoom audio recorder
Smartphone
3D Vista
Premiere Pro
Lightroom
DaVinci Resolve
Evaluation:
All in all, Stavanger Art Museum is very satisfied with the product. The art is very realistic, and you get a feeling of being present at the physical exhibition. Stavanger Art Museum is also very pleased that, through the 360-degree exhibition, you get access to an even larger material than what is on display.
Unfortunately, the project has become very large, and requires very good internet access for it to be easy to navigate. In hindsight, we may have reduced the quality somewhat to minimize the amount of data that the user has to download. This could make the user experience better.
User instructions:
We recommend using the Chrome browser to view this exhibition. Don't forget that it is a 360-degree exhibition, and that you can see in all directions.
Press and drag the mouse to look around. Tap the marks on the floor to move. Click on the artworks for more information. Click on the presenters to watch a video.
If you speak Norwegian, you can also take a look at this video. https://vimeo.com/592216455
Link to the solutions:
Read more about the cases for Stavanger Art Museum