Project partner Quasar Dynamics has created a 360° golf instrucion video to give viewers an immersive learning experience and accurate representation of the golf course.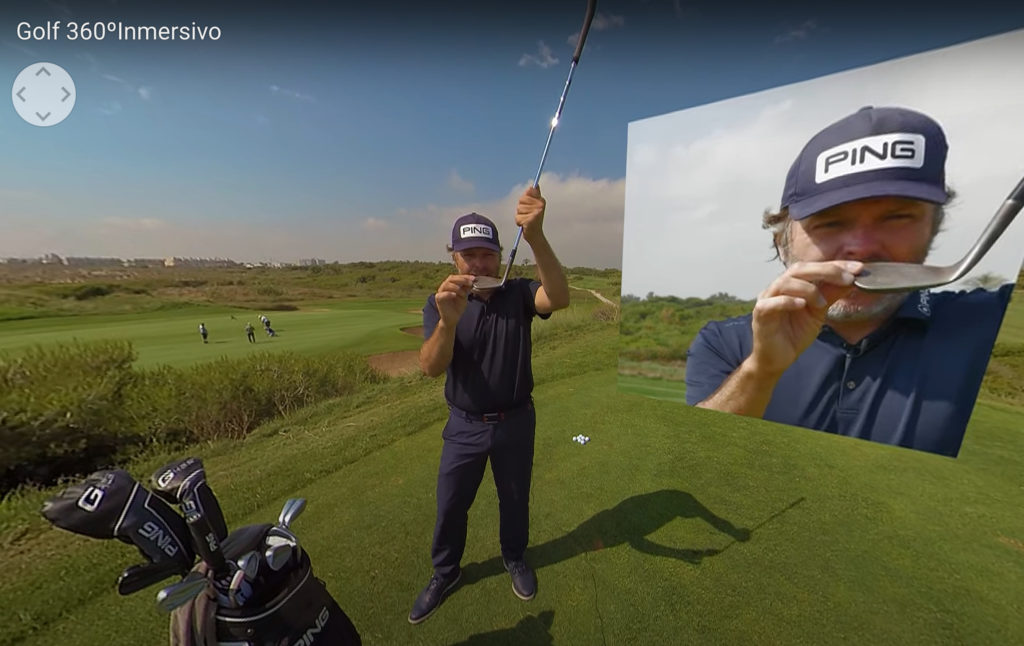 Case: 360° golf instruction video
Produced by: Quasar Dynamics
Objectives: A 360 degrees immersive video of a golf course can be used:
To provide viewers with an immersive experience of the course from your home.
To give viewers an accurate representation of the layout, terrain, and features that make up the individual holes. We used 3D elements to guide the user perspective and provide more details of the ball route.
Gain potential customers with an innovative experience before they visit in person. This is a great marketing activation solution.
Method: For recording a 360-degree video in a golf field for a training course you need:
To set up your camera equipment placed at different angles around the golf course and teacher. You need at least another camera closer to the holes to record how the ball approaches it.
Make sure each camera has its own audio recorder and that all devices are connected to one another via Wi-Fi or Bluetooth so they can be synced together when editing your footage later on.
Additionally, take note of any obstacles such as trees or sand traps that may obstruct certain views from certain cameras so you can record accordingly.
Equipment and tools:
Insta360 Pro 2 camera for recording 360 videos
4K video camera for holes
Røde Stereo microphone for audio
Evaluation:
The hardest part was editing all the content from multiple cameras. When the teacher hit the ball, we had another camera pointing to the hole. Therefore we had to check that we recorded the correct hit and add it into the main 360° video. Having a small time log helped us to better organise us.
When recording the teacher, we had to add 3D elements to block any perspective that would not correctly guide the user. Also we had to be close to the camera, so this helped us to remove us from the user's point of view.
User instructions: Use a PC or a smartphone with a web browser. Access the link and use the mouse/finger to drag the camera view.
In the Youtube settings you can also enable the VR headset mode to improve the immersive experience. This will use your phone's gyroscope to detect your head movement.
Link to the solution: